Blog
Asimily Launches Partner Program Dedicated to its Channel Partners' Success
Asimily Launches Partner Program Dedicated to its Channel Partners' Success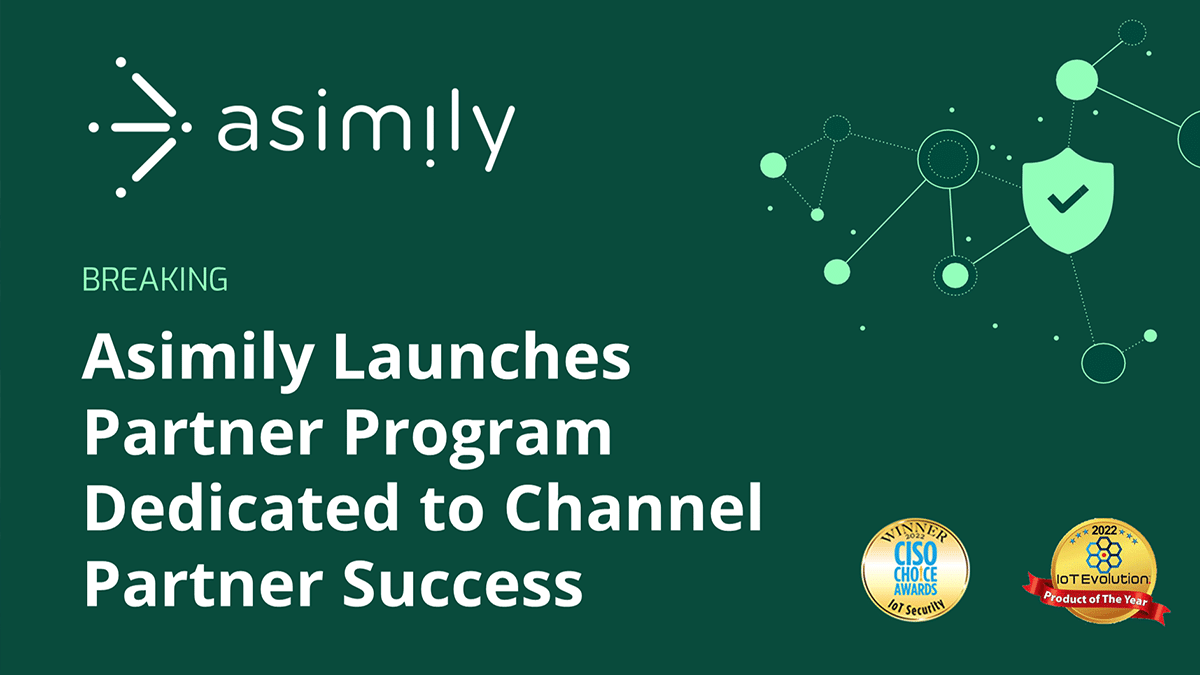 The unique partner-led program, Launch, is built around the critical decisions, collaboration, requirements, and goals of Asimily's partners—not the other way around
SUNNYVALE, Calif., ­– October 11, 2023 – Asimily, a leading Internet of Things (IoT) and Internet of Medical Things (IoMT) risk management platform, today announced its channel partner program: Launch. The new program empowers global technology and service providers, security resellers, and managed service providers (MSPs) with everything they need to bring Asimily's revenue-generating, best-in-class solutions to their clients.
Purpose-built IoT security is critical for organizations that utilize an ever-expanding array of internet-connected devices that spread across networks and increase security risk. Unlike traditional IT endpoint and server infrastructure, IoT devices have unique behaviors that leave generalized cybersecurity solutions unable to discern real risks from false threats. Effectively securing these IoT deployments requires the capabilities to correctly identify, prioritize, and remediate all vulnerabilities that present actual risk.
Asimily discovers all internet-connected devices and equipment across all networks, leveraging parameters collected from devices, unique algorithms, and pre-existing device profiles. The solution then enables prioritized vulnerability management, rapid exploit analysis, and automated prioritization of threats that support forensic incident response with minimal business disruption.
Launch is backed by Asimily's team of security channel veterans and led by Peter Hancock, the VP of Global Channel Sales and Strategic Partnerships at Asimily. "We expect Asimily's IoT security and risk management solutions to be a clear winner for our channel partners," said Hancock. "Having demonstrable, thorough, and customizable IoT and IoMT security is an accelerating concern across most (if not all) industry verticals. The financial and reputational costs of data breaches and ransomware attacks via internet-connected devices and equipment are growing quickly. Our partner-friendly solutions enable security resellers, MSPs, and integrators to mitigate those risks, keep their clients from becoming the latest headline, and grow revenue with a program that is focused on making them successful."
The Launch program has been designed to support Asimily's go-to-market evolution, which now brings a stronger and more dedicated focus to the channel.
"Organizations' IoT device fleets are mission-critical devices that their employees and customers depend on every day," said Rusty Feldman, SVP of Global Sales at Asimily. "Ensuring these complex networks and data are well-protected is Asimily's mission in life. Launch is key to our success in working with our growth partners across the globe. The new program will provide the scale, insights, and disruptive IoT security solution that empower our existing and future customers to continually address this ever-evolving threat landscape."
About Asimily
Asimily has built an industry-leading risk management platform that secures IoT devices for the healthcare industry, as well as higher education, manufacturing, government, life sciences, retail, and finance. With the most extensive knowledge base of IoT and security protocols, Asimily inventories and classifies every device across organizations, both connected and standalone. Because risk assessment—and threats—are not a static target, Asimily monitors organizations' devices, detects anomalous behavior, and alerts operators to remediate any identified anomalies. With secure IoT devices and equipment, Asimily customers know their business-critical devices and data are safe. For more information on Asimily, visit https://www.asimily.com.
Reduce Vulnerabilities 10x Faster with Half the Resources
Find out how our innovative risk remediation platform can help keep your organization's resources safe, users protected, and IoT and IoMT assets secure.